Apparently some society aunties do not like their mania for lawn being mixed up with the plight of cotton pickers. Even if cotton is the thread that runs between their hyper consumerism and the poverty of the pickers, they'd rather focus on the positives -- the aesthetics of lawn, and the healthy business it generates.
Girls have a right to look pretty. One day at work, when a colleague said that, I was reminded of our trip to Karachi University. We were trying to arrange a talk by Kakakhel, a journalist from Peshawar. As we found our way around the college's bureaucracy to acquire a room, we met an Islamic history professor. She was a petite woman and so pleasant faced, she seemed more suitable for Montessori. Her jet black hair was tied back. My friend told me her story was that she did not add the obligatory "peace be upon him" after saying the Prophet Mohammad's name when she taught. She told her students who were offended by this omission that it was a history course and not be confused with theology. She got a lot of flak for it. Well, on this particular warm day, the campus was empty. There was a strike and only a few students had made it -- most significantly the ones from Gilgit. She walked up the hallway dressed in a lawn suit floral print that looked like it was pulled out of the eighties and defied any conformity to current trends. She didn't care. Her life was consumed by more important things. On this side of the bridge she would be a social pariah. Somebody to be pitied and derided.
I was a kid's birthday party a few days ago, and acutely aware of my schizophrenic existence. The topic was lawn, and I overheard that Sana Safinaz suits were available in black for a mere Rs. 1000 to 1500 extra fee. I also heard that some women were buying in bulk, and buyers were mad that they had to be stuck in the same line as them when they had only a modest five to purchase. The vendors were slammed with a Rs. 2 crore tax. It was a small dent as they made profits of Rs. 6 crore or 10 crore.
There seems to be an unhealthy obsession with possessing lawn in Pakistan -- at least in Karachi. There is a lingo and urban legends around the fetish of lawn. You have to wear the print before someone's maid is spotted in it. You have to find ways not to run into someone wearing the exact same print. You can't wear the same print a second time. You can always spot a cheap imitation from Gulf. The summer will be excruciating if you do not have 200 suits hanging in your closet. Then begin the trips to the darzi, and lots of time expended in design and embellishments. A generation gone to hell and lost in space. Sometimes it feels there is an army of elite women run amok in the city playing a secret tambola that never ends, but turns into a kitty party, and shrieks of laughter.
Here is a journalist berating "Asim Jofa" that his shoots of Iman Ali, the model, are deceptive. She says the lawn joras they sell do not come with all the "kaam" Ali is wearing, and the pre-packaged fabric is rarely enough to tailor the extravagantly flared designs they boast. Heartfelt complaints. Lawn mania masquerading as intelligence.
http://old.thenews.com.pk/26-02-2011/instep_today/
The billboards have gone nuts this past month. Its like the city has been taken over by a giant woman with thin muscles, spidery legs, and a vindictive, on the verge of anorexia expression. She has vowed to spread her wings over electrical wires, across flyovers and over every piece of mahogany furniture in sight.
All this for something that adds no value to society, and creates nothing that people can use in their everyday life. Its simply big clunky jewelry for the textile mills -- collaborate with big names in fashion design and modeling and multiply the profits. Orient for example, partnered with Deepak Perwani who did a delectable pastel collection for them. He seems to miss the irony in his statement endorsing simplicity.

"I think a simple lawn suit loses its charm the moment there is excessive embroidery on it." His suits start at Rs. 2,800 and do not quite go up to Rs, 4,000.
http://tribune.com.pk/story/134982/holi-lawn/
Textile mills have made it big this year, specially in exports. The president declared 2011 as their year and Gul Ahmed made a profit of

Rs. 588 million.
http://www.just-style.com/news/nishat-mills-doubles-hy-profit_id110604.aspx
In the meanwhile 250,000 power loom workers were striking in Faislabad for an increase in wages last July. Looms convert thread to textile. Union organizing in this area survived the assaults of the Zia decade.
In the picture below, you see them standing behind a banner of the Labor Quami Movement
They were finally successful in a 17% wage hike, but not without blood. On July 6th, M

ustansar Randhawa (See picture below) an organizer of power loom workers across Faisalabad, Jhang and Toba Tek Singh, and his brother were shot to death. The AHRC called for an investigation.
http://www.solidarity-us.org/current/node/2949
http://www.laborpakistan.org/news54.htm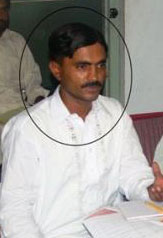 The fight for labor in general and the power loom workers runs deeper than the fight for wages. According to a PILER/SDPI study and Labour Party activists, employers avoid paying into social security and provident funds by showing shops comprising less than 10 employees. Under the Factory Acts, 1934, such payments are mandatory only for enterprises larger than 10. Moreover, employers do not issue identification cards or appointment letters to their employees in an attempt to legally bypass any duties owed to them. Workers are therefore completely deprived of any state and employer funded social security benefits -- due to a conniving alliance of the bureaucracy, the industrialists and even the labor courts that can be nobbled and bribed. This makes the labor of Pakistan very desperate and vulnerable.
I visited a bunch of tanneries in December and was never able to write about it. Not having health benefits had been particularly debilitating for an engineer at one of the factories. A 50 year old man, Kashmiri good looks, he took me to his tiny office that looked like the workshop of a mad scientist from an old era. It was covered with an extraordinary dust - collected over years from leather emissions. He said he made Rs, 18,000 after 20 years of service (and deserved at least Rs.50,000) and his employer would not pay his medical bills. He had a heart attack and had to undergo surgery, and had to take loans. He said he works in rubber slippers and is exposed to electrical currents all day. He recounted an episode when he saw a pair of boots at a Bata shoe outlet and he thought they were perfect safety wise, but put them back when he saw the price was Rs. 2,000.
He took me for a tour of the factory floors where boys and young men were draped around various machines. They repeated the same process over and over. One group was sending leather through a hot iron machine machine so that it got thinner and shinier. Without gloves, the workers repeatedly manipulated several very hot metal locks that clasped the material. He asked me to touch them, and I was shocked. The winter cool belied the fact that this area would be a 120 degrees in a few months. There was a devilishly pungent odor as the factory next door produced chicken feed made out of fish remains. (In fact, I was pretending to be a journalist doing a story about the stench.)
A labor organizer informed me that the effluents released in the tanning process are not being treated by the tanneries, and are entering the water supply. Instantly, the wide canal seemed like a cancerous crack in the middle of the road.
http://casestudies.lead.org/index.php?cscid=148
Workers have no one to watch their back when they get sick -- no employer, no state mechanism to bail them out. This is true not just of the power looms and the tanneries but all sectors - cotton pickers of course suffer the same disabilities of social security in the face of exposure to harmful pesticides.
Its terribly dehumanizing that while people who have worked 20 years find Rs. 2,000 for a much needed pair of boots to be prohibitively high, some women of society can splurge Rs. 6,000 on a suit they will wear once or twice.
To all the people who read the piece on Blood Cotton and reacted with with this --
Buying expensive lawn will not make a difference to the plight of cotton pickers. In fact our buying allows them to stay employed.
The problem is much larger than that. Your side of the consumerist rat race makes no difference to anyone. You are not keeping them employed. They never had jobs to begin with. Your cash is simply the grease that works a larger than life, gluttonous industry - where art comes to die, where in the name of fashion and aesthetics, people are making bundles of money, and secretly scoffing at the bewildering and shrill narcissism of women who think that lawn, somehow, enhances their status and makes them whole.